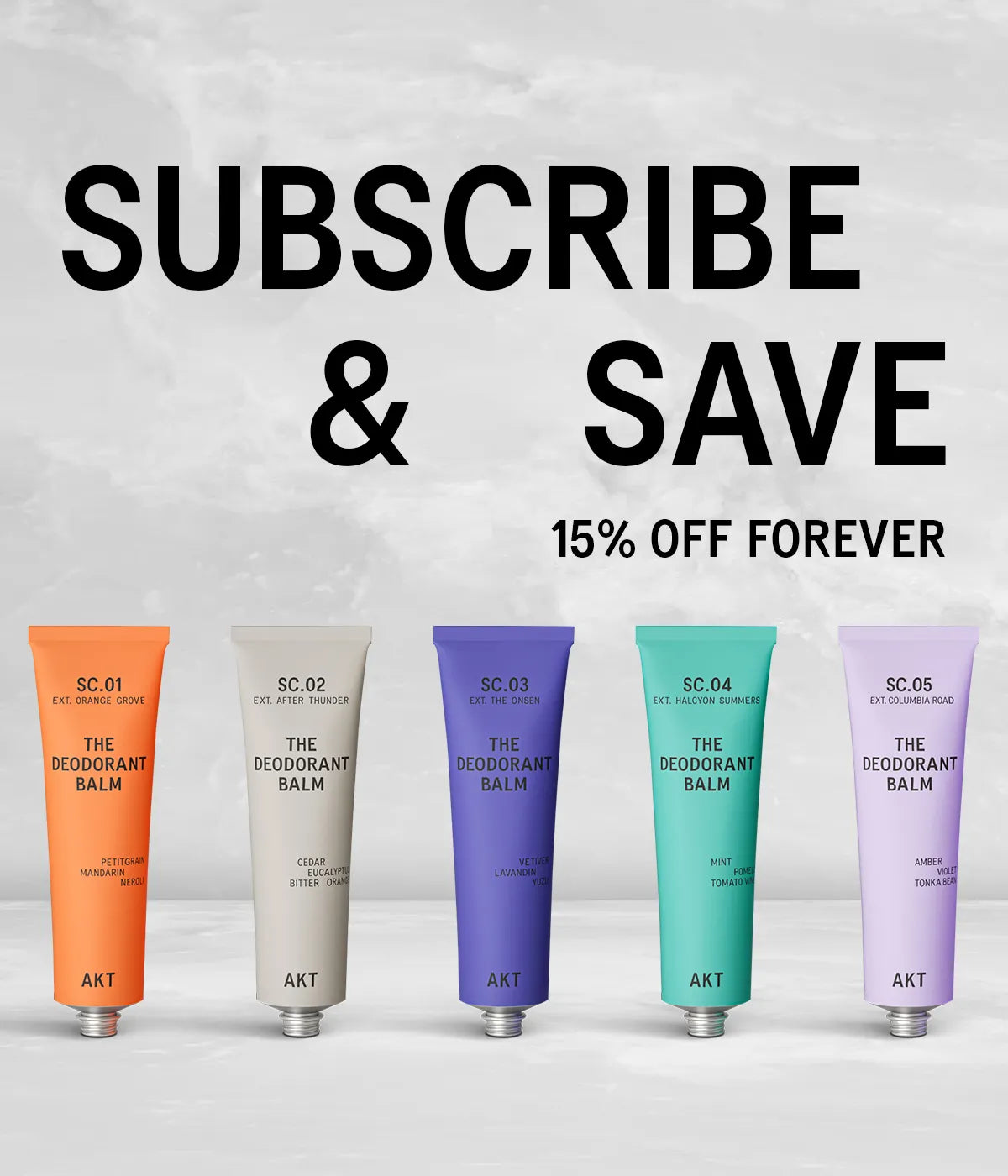 THE DEODORANT BALM SUBSCRIPTION
Save 15% off every tube 💰
FREE UK delivery 📦
You can choose the frequency 📆
Easily swap or edit products/fragrances ✍🏼
Cancel your subscription anytime 🚫
Currently only available in the UK 🌎
The Starter Set
Choose your fragrance
Subscribe now
EXPLORE FINE FRAGRANCES
AKT uses fine fragrances like no other, inspired by scenes in nature, written as you'd read them in a script..
SC.01 ORANGE GROVE +
PETITGRAIN, MANDARIN, NEROLI

Midday sun beats heavily on the grove.
Sweet aromas burst from the freshly peeled orange. Neroli blossom dances, alive on the breeze. Another negroni over ice – it's summer after all.
AT FIRST
SLICED ORANGE, SWEET MANDARIN, TUSCAN SUN
AND THEN
BITTER NEGRONI, NEROLI BLOSSOM, AFTERNOON SIESTA
FINALLY
ITALIAN CYPRESS, PETITGRAIN, LA DOLCE VITA
SC.02 AFTER THUNDER +
CEDAR, EUCALYPTUS, ORANGE
A walk through the woods after a thunderstorm. Damp cedar. Fresh leaves. Citrus rays of morning light slice through the canopy. Take a deep breath. Day begins again.
AT FIRST
EUCALYPTUS, CALEDONIAN PINE, ORANGE SUNBEAMS
AND THEN
ROSEMARY, MORNING DEW, A SENSE OF WONDER
FINALLY
WET EARTH, LINGERING CEDAR
SC.03 THE ONSEN +
VETIVER, LAVANDIN, CITRUS
Steam dances over the hot spring, steeped in soft Japanese citrus. Cold, earthy air rushes into the lungs.
Morning sun bathes the cedar mountains in a lavender light. Mind clear and calm. Breathe.
AT FIRST
STEEPED YUZU, LAVENDER, HUSHED MINT
AND THEN
MOUNTAIN PEPPER, CLOVE
FINALLY
JAPANESE CEDARWOOD, VETIVER, CALM
SC.04 HALCYON SUMMERS +
SC.04 EXT. HALCYON SUMMERS
A lazy walk back to the villa, along cobbled streets, past tomato vines and proud citrus trees. Under the dusk sky, locals smoke cigars and drink mint tea. The sea air greets your sun-kissed skin like an old friend. Here's to endless summers.
AT FIRST
FRESH MINT, POMELO, COASTAL WIND

AND THEN
CASCADING GERANIUMS, TOMATO VINES,
SUN-WARMED SKIN

FINALLY
VETIVERT, GIN AND TONIC... AND NO PLANS
SC.05 COLUMBIA ROAD +
SC.05 EXT. COLUMBIA ROAD
Early Sunday morning. Lemon sunlight peeks sleepily over the terraces of the bustling flower market. Street sellers call; their stalls a riot of violet and amber blooms. The scent of freshly cut stems and good coffee. With a smile you melt into the crowd.
AT FIRST
ZESTY LEMON, CUT STEMS, COLD SKIES
 AND THEN
IRIS, VIOLET LEAF, WARM HANDS ON A COFFEE CUP
FINALLY
AMBER, TONKA BEAN. A PERFECT SUNDAY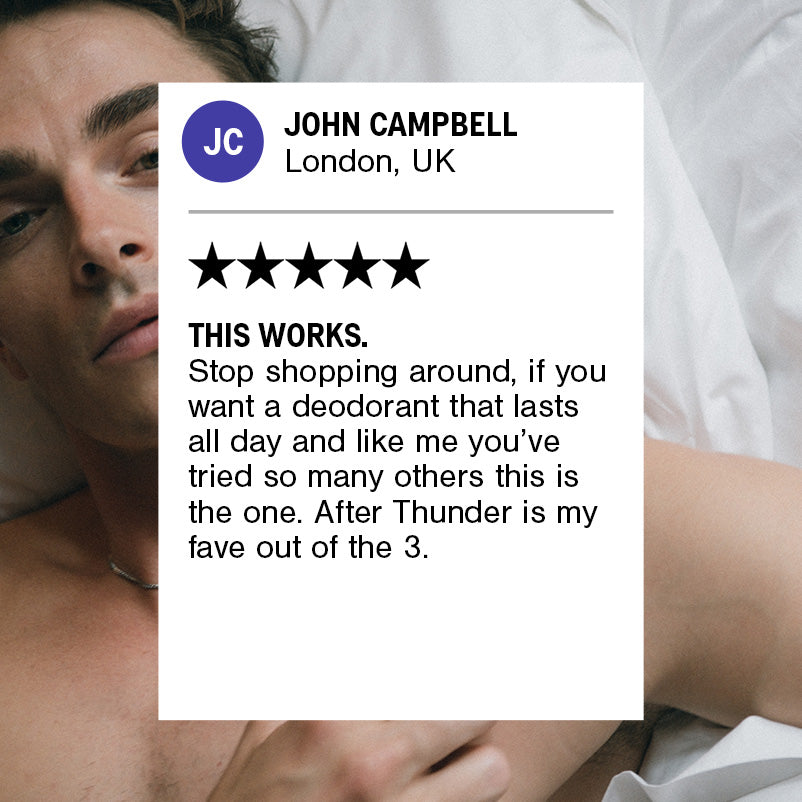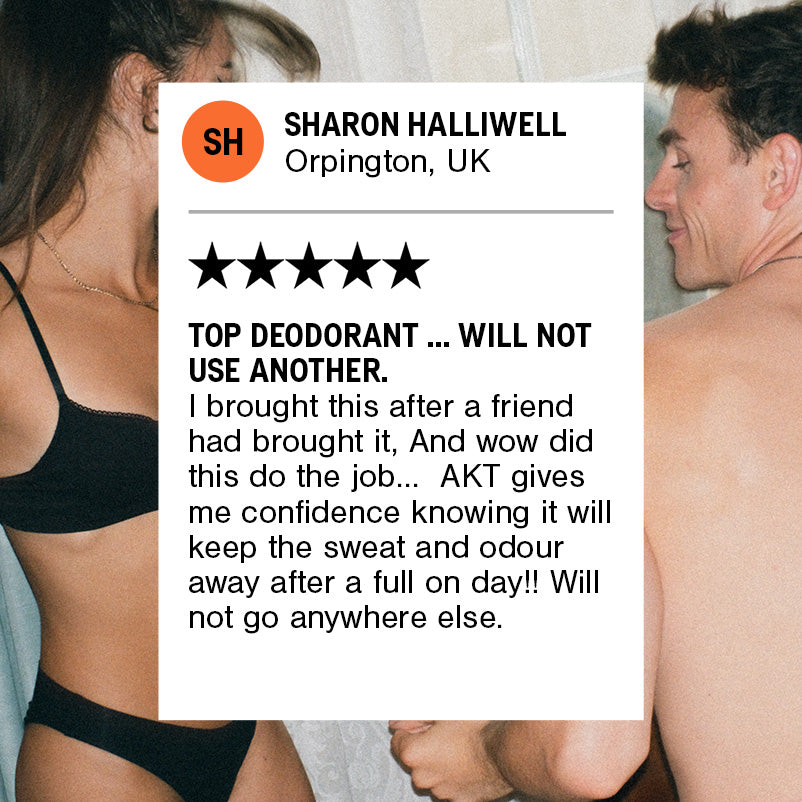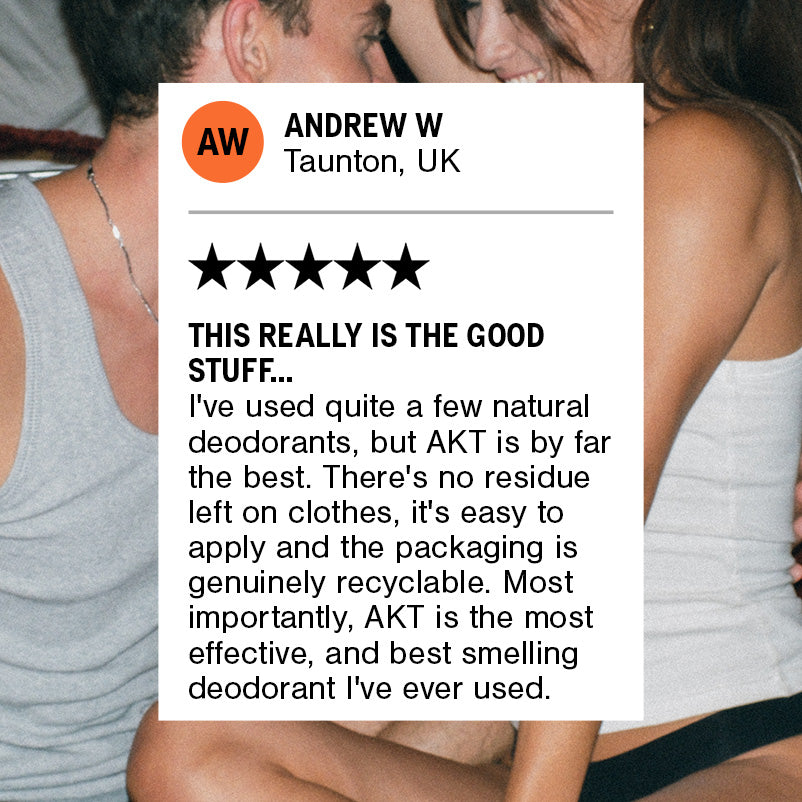 HOW TO AKT
Apply a pea-sized amount like a moisturiser to clean underarms or anywhere you need protection. The deodorant balm absorbs instantly. No mess.

MEET THE DOUBLE AKT
"WE CREATED A NATURAL DEODORANT THAT ACTUALLY WORKS AND LIKE US, WAS... BORN TO PERFORM"